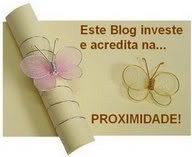 The thoughtful and sharp Enc from observationmode gave me the "Proximity Award" (or "Closeness Award") which she named in a most beautiful name the "Butterfly Blog Award".
As you know this is a Portuguese award, so I feel very flattered that this award multiplied in the Internet and is reaching everywhere. (I made my researches and couldn't find where and when it have begun).
The sense of this award is to promote closeness between bloggers and it comes with a text like this:
BLOG has been made to achieve people, showing inspiring things and to create
bonds of friendship, to invest and believe in PROXIMITY (Closeness).
Many bloggers receive messages and don't care in answering or return them. So then what happens?The friendship ties are broken. And we don't want that to happen, do we?
An union between Reader/Blogger is needed. So let's visit those who visit us also.
Then, we will be closer; we will be Bloggers in the true meaning of the word.
In that spirit, the rules state that we should pass it to eight other bloggers and I'm passing to the following ones:
a blog of my own because of her sweetness and her love for beauty.
autumn's forgotten dreams because of the poetic way she presents life that always touches me.
Drama Girl because of her jokes that keep me laughs, in the middle of serious themes.
Hammiesblog because of in her writes she shares with the world so much which tinkers with my soul.
I say Shotgun because of the way she has to make me feel special.
La Belette Rouge because she is really one of those who are so friendly and lovely that is a pure blogosphere pleasure.
WendyB because of her true humanity which made her auctioned one of her necklaces in solidarity with those in need.
And of course observationmode because of her sharp and constructive criticism, that "fires my sociological (and not only) imagination". (You are liberated to do it because you've already done).
And to all of the lovely ladies, girls and boys that take time out whenever possible to leave me lovely comments, I'm happy to pass this award onto them!
Take care!