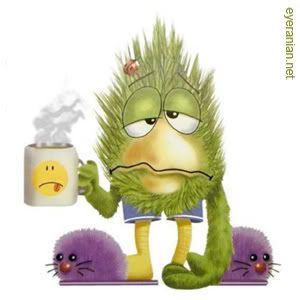 I hope everyone had a great and gorgeous New Year's Eve and that 2009 started on a fabulous way.
Unfortunately I've not been very well. On New Year's Day I hardly could eat some crackers. All that I wanted was to drink tea and I didn't leave home. Hubby (always so sweet) went for Mother to take her to our home, so she could be with us.
I don't know if it was something I've eaten, if it was some debility because what happened in the first days of the week or if it's some kind of a virus that they say it's on the air (well I never saw it yet, but if they say it is….).
Anyway what reason it was I'm still recovering, but I'm trying to keep in touch with you.
I want to thank everyone that voted on the pool about
Seeker's best Fall/2008 outfit
on the side bar, and ask the ones that didn't vote yet to do it.
I'll be back….