Moonlight white skin, jet black hair... she's a girl of uncomplicated taste.
Black dress. Black Stockings. White Mary Jane Shoes.
She walks with four black cats - Miles, Mystery, NeeChee and Sabbath - her constant companions in her world.
Also known as Emily the Strange, she has become an unlikely icon. Adopting none of the "look at me" attitudes of over-the-top cartoon stereotypes, Emily is about embracing the unique.

It's about being yourself, and truly individual. She doesn't do conformity. She doesn't do stupid. And she certainly doesn't do pink.

Emily Strange emerged into view in the early 90's, created by Rob Reger to promote a brand of clothing, with an attitude of not accepting and questioning the world around her, encouraging others to do the same. Bringing her quick wits and sharp focus to hand screened t-shirts and stickers, it was impossible to ignore her observations and personal philosophy. Just by looking at her, you can tell there are bizarre, strange thoughts going on in her head. Not just a figurehead of feminism, but also of youth, her popularity has grown from t-shirt designs to a range of hoodies, tops, bags, shoes and more.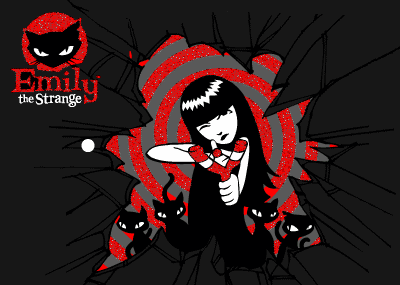 Emily the Strange has been a popular apparel and accessories label for nearly 15 years, with sales in Department Stores, Specialty Boutiques and other trendy retailers throughout the world. Products are also sold on the brand's official website.
Each bag, garment or pair of shoes reflects Emily's quietly smart outlook and sardonic sense of humour.Emily's not your average thirteen year-old-girl. A counter-culture face in popular culture world, Emily Strange is inspiring girls to strike out on their own and do things their way.

Emily is: An Artist, A Dreamer, An Inventor, A Scientist, A Skater, A Rocker and An Individual!

Today, Emily continues to be a voice for individualism and self-awareness, and her appeal is especially strong among alternative-minded young women and girls who identify with her signature singularity. Her presence in the worlds of art, pop culture, literature, and fashion celebrates non-conformist and reminds us all to cultivate that which makes us unique.
Emily wants you to be yourself, think for yourself, and DO IT YOURSELF!