These last days I've been living in the corporate uniform, smart pants, a button down shirt and some heels. Boring…..

Actually I totally admit you aren't going to see any revolutionary outfits on here. It was never my goal such thing.
One I'm a working woman in an office, two I have no skills nor body for that, three I have my budget….

When I started this blog my goal was to learn… filled with thirst for information, I published all my outfits, everyday, to see my mistakes but also to see my good ideas.

As I was realizing some aspects and learning something the perfectionist in me started to appear.
And instead of feeling confident with what I knew now I find myself more and more insecure if a look is worth to publish.
Because I would very much like if I could inspire some readers to add a scarf, a fun pair of shoes or belted something, even just so they realize it is okay to have a basic pair of black pants to toss on from time-to-time.
But for that I must try to overlook that perfectionist in me that says "no, this is not good enough"…
But what is "good enough"?????? Who is the jury of that????
I see so much street style fashion with looks similar to mines but the perfectionist wants more.
So what the perfectionist takes is NOTHING!!!!
Maybe it's because the leaves are falling, maybe it's because the economy is bad, maybe it's because our government measures include taking a percentage from my income…. But I'm feeling in a crisis…
Nevertheless maybe I'll reach the day that I'll tell to myself "I AM WORTH"!
~~~~~~~~~~~~~~~~~~~~~~~~~~~~~~~~~~~
Today it's a holiday, we are celebrating the Republic centenary, so I dressed more casual and the weather started to chill a bit, thus a jacket felt already comfy.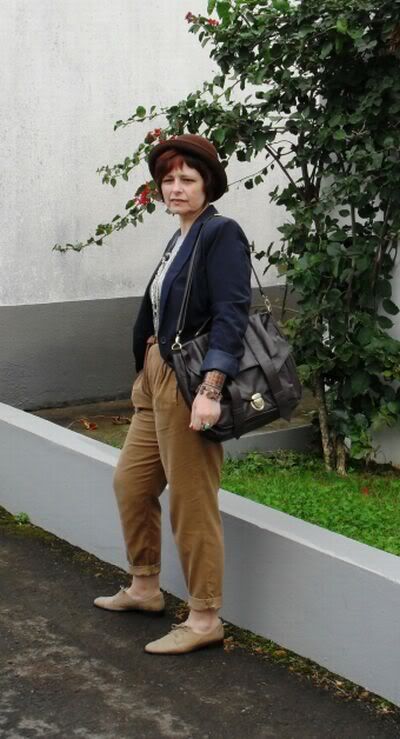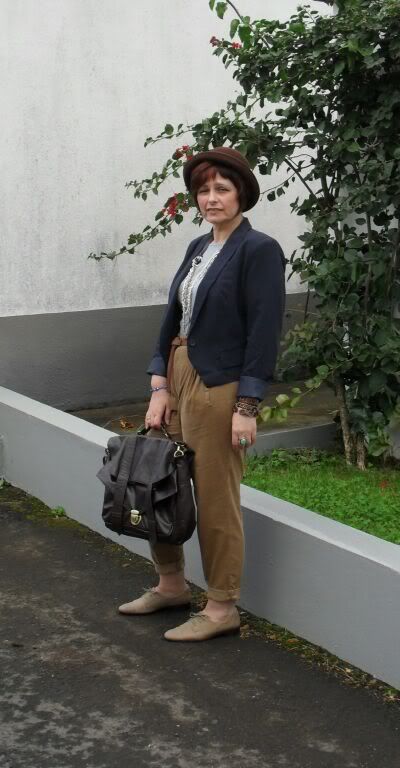 kamel
pants with boyfriend belt - Zara (on-line)
navy blue
jacket - La Redoute
brown
hat - mainland store
necklace - Parfois