As Ernest Hemingway wrote in his book "A Moveable Feast", "... then wherever you go for the rest of your life, it stays with you, for Paris is a moveable feast."
And our second day in Paris was a day to celebrate!!! September 19th is Sister's Birthday and we celebrated it.
What an unforgettable day…..
We started going to the "Basilica of the Sacré Cœur", where we saw a beautiful view all over Paris and also the very interesting Basilica.
We walked through Montmartre where I loved being at "Place du Tertre", with all those artists and crafts.
I had a portrait made by one of the street artists and I like it very much.
At Montmartre I ate a "cheese crepe" and it was yummy.
"Pigalle" with many sex shops was fun and of course we had to stop at "Moulin Rouge".
After that we turned to Eiffel Tower, where we took so many pictures that it's so difficult to choose the best.
In one of the "Bateaux Mouches", a large white boat with bright orange seats, we made a relaxing and practical way to view the sights of Paris in all their grandeur, a Seine River Cruise.
After that we went to the Hotel, to prepare ourselves for a nice dinner in a pleasant restaurant, where we ended the Sister's Birthday celebrations. (I don't show any picture of this because I haven't any alone).
And here it is what I wore on my second day in Paris: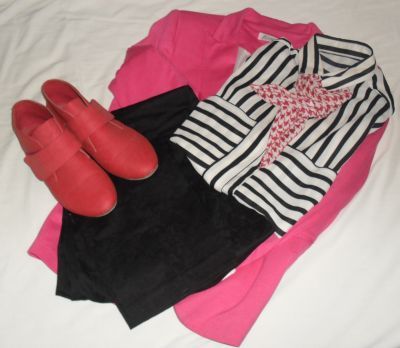 Red flat ankle boots
Black jacquard pants
Black

and

white

stripped button down shirt
Fushia blazer
Red and white printed scarf
Colour block bag (black, ochre, cream and yellow)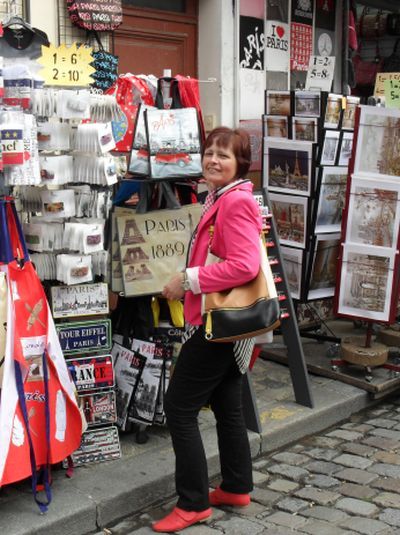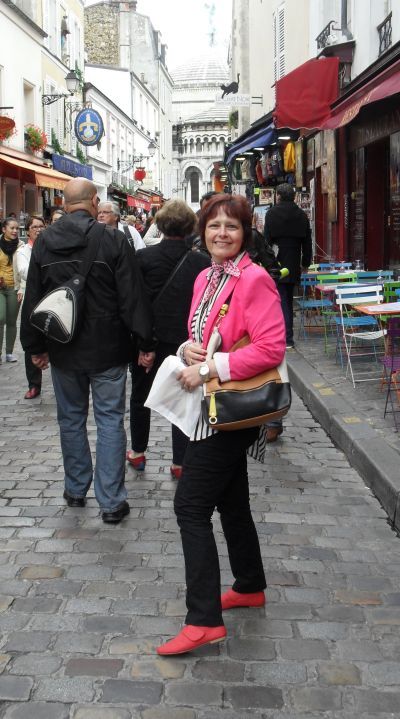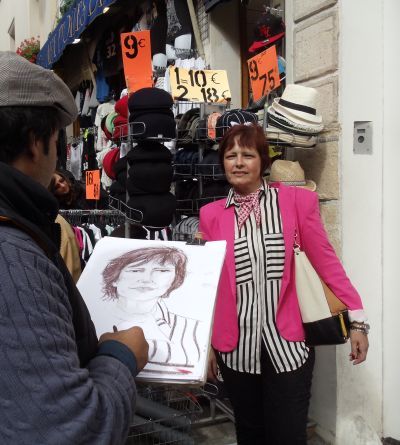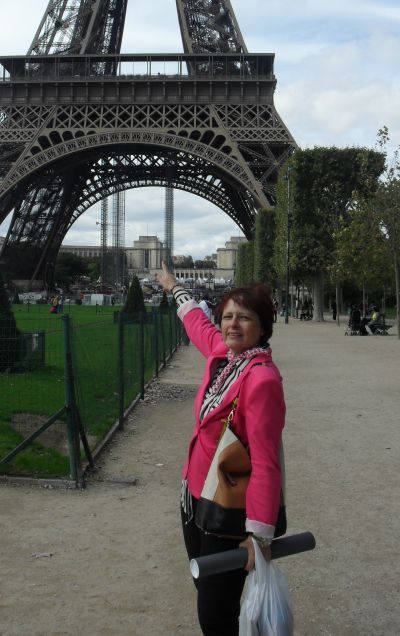 Well, now I will jump to third day….. on another time. :)