I'm so trilled and anxious (and a bit afraid) with the first Link Up Party
"
Très

Chic Style Bits
".
If you want to participate, which I hope so, it's very easy. At the bottom of this post is the button you must click to had your link.
Today I decided to talk about Corporate Dress using a post I wrote many time ago.
As we all know first impressions count. If your goal to getting dressed for work is to project a professional, competent image, regardless of your employment level or career path be sure that getting dressed for the office doesn't mean leaving your personal style behind.

The dress code has nothing to do with fashion. It is about making workers feel more confident, more professional.
However, despite most companies don't have specific guidelines about what to wear to work, some organizations encourage employees to dress according to some "Business Dress Codes"
*
, which are:
Formal Business Attire
- For women this constitutes business suits (a matched skirt and jackets) and, in most workplaces, pantsuits (matched pants and blazer). Closed-toe shoes (no sandals), blouses, hose and conservative hair, jewellery and makeup are expected.
Corporate Casual Looks
-Working women have interpreted this to mean everything from shorts to sundresses, but in its most literal sense it means "smart business." Dressy pants and a blouse, sleek jersey knits and skirts and tops are all examples of corporate casual. Denim, T-shirts and flip-flops are only acceptable in the most casual of work environments.
Casual Friday
- Depending on the business, this can mean anything from corporate casual instead of formal looks or "Wear your company logo polo and jeans." If in doubt, ask a superior. One of the best clues to company dress codes is what your boss wears.

Colour plays a big part in professional image. Traditional career colours include red (aggressive), navy (trustworthy), grey (conservative) and black (chic). Most of these colours work well in pantsuits, skirts and shoes and mix back with softer feminine colours that are appropriate like ice blue, lilac, soft pink and ivory.
*
information found on about.com: Women's Fashion

Fortunately at my office we don't have a formal dress code, (despite I have my own office dress code), and so we can play with corporate look as with casual look. Or also mix them… which is great, because in a way the sky can be the limit…. Well with some limits…. Lol
And here is what I wore last Friday. I had to take my pictures when I got home, because I forgot my camera but anyway it was raining, so I couldn't have taken them outdoors.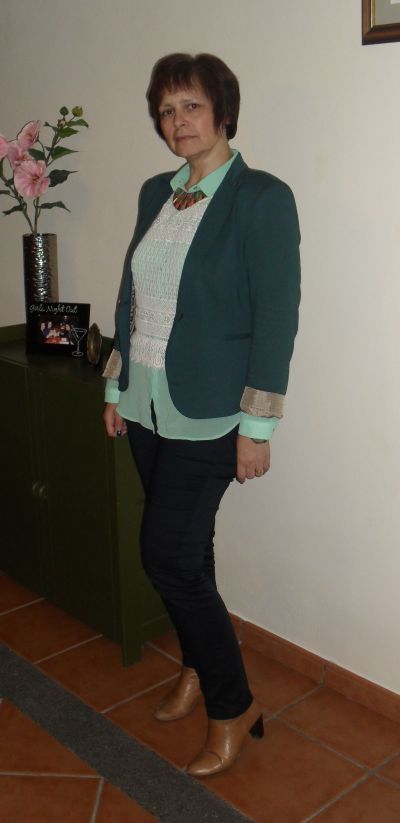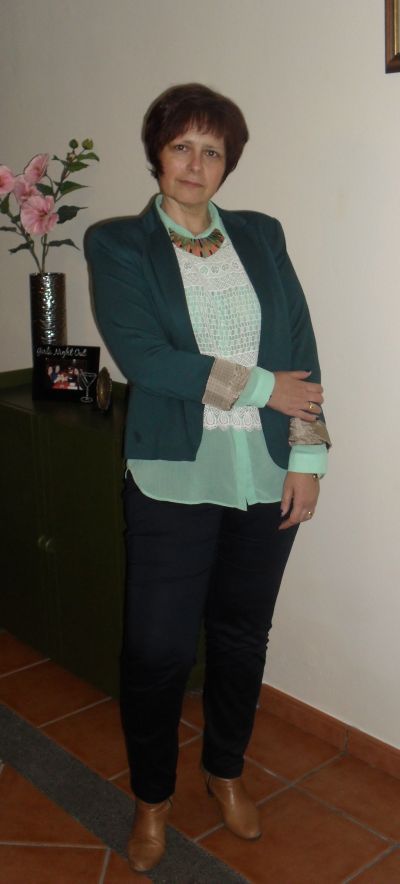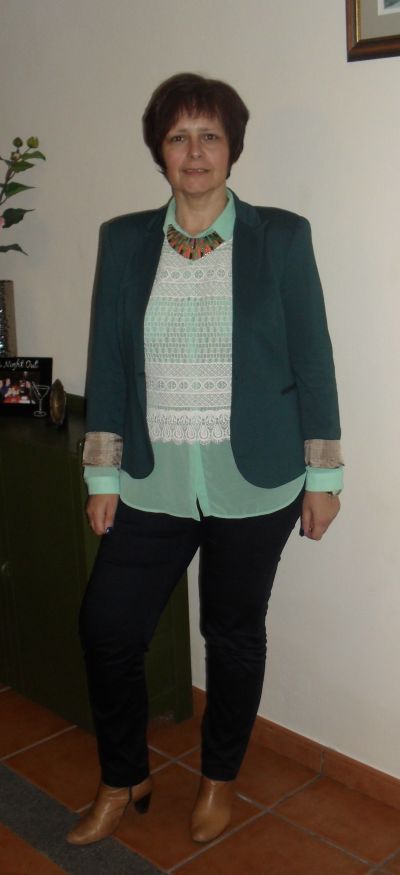 camel booties - Seaside
navy pants - Mango
soft green button down shirt - Najma
white lace top - Berska
forest green blazer - Najma
colourful necklace -
Romwe
*****************
Ok stylish bloggers, it's time to link up, just follow the guidelines:
1
.

Please follow (if you aren't already a follower) Searching the Inner Me in some way (Bloglovin,

Facebook or

GFC

);
2
.

Please only link a new post, or fairly recent one;
4
. Please link up your post using our weekly InLinkz button at the bottom, that says "Add your link". I'm using the new, dynamic widget. This makes it easy for people to find your content and for you to visit your fellow bloggers. It is also very friendly, so you will not have difficulties linking up;
5
. Please visit as many links as possible. Even a visit to one or two people ahead of you in the Linky can make all the difference in the world!
Note: To link up, your post doesn't have to be related to the same topic as mine!