Hello my dear readers and blogging friends!
I'm so excited to announce my new weekly link up called "
Très
Chic Style Bits
".
I've decided to re-launch my blog and spicy it up with a linky party.
Basically, a linky party is an "event" that spans a set period of times (hours, days, months, years) that allows people to share URLs to specific posts or pages on another person's website.
Often, the linky party host will allow for photos to display, which will be the case (since I purchased an extended account) meaning you show a little picture of your content above the direct link to the post itself.
So, every Sunday I will host a link up, where you can post about anything and everything that makes your life stylish and meet some other stylish gals!
In our Linky your post doesn't have to be just Fashion related, but it can also be Lifestyle connected

.
Want to join me?

Awesome! I can't wait to see all the fabulous posts. We can all use some inspiration from time to time.
1.

Please follow (if you aren't already a follower) Searching the Inner Me in some way
(Bloglovin,

Facebook, Google + or GFC);
2.

Please only link a new post, or fairly recent one;
3.

Please include a link to Searching the Inner Me somewhere in your post, picking up the button bellow (or a text link), so others can get involved in "
Très
Chic Style Bits
";
4. Please link up your post using our weekly InLinkz button at the bottom of the gallery. I'm using the new, dynamic widget. This makes it easy for people to find your content AND for you to visit your fellow bloggers. It is also very friendly, so you will not have difficulties linking up;
5. Please visit as many links as possible. Even a visit to one or two people ahead of you in the Linky can make all the difference in the world!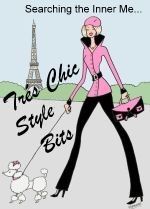 I'll be pinning and sharing links throughout the week to my Très Chic Style Bits board on Pinterest! (with the hashtag #Très Chic Style Bits)
You can find the board HERE
Namasté!