Time for our Link Up Party "
Très Chic Style Bits
".
Once again I want to thank very much to all the lovely bloggers who linked up last week and I hope you will show in this week and that some other bloggers will join us.
At the bottom of this post is the button you must click to had your link.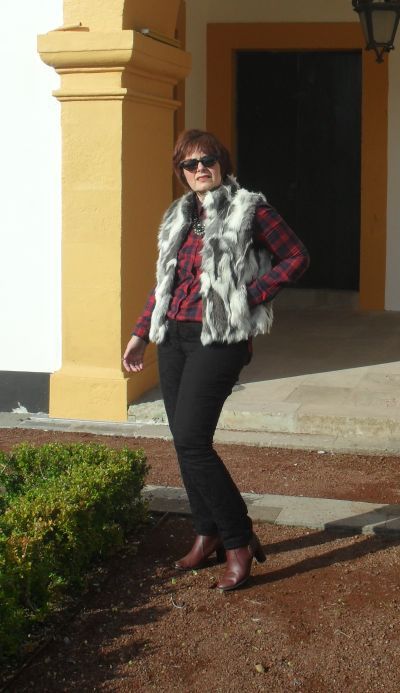 The temperature dropped down and I thought Friday was a good day to wear my faux fur vest. I throw under it a plaid shirt and this is the result.
Of course I wore an overcoat, because vests and I, we don't have a good relation. I love them, but I always feel cold in my arms.
I semi tucked the shirt and add up a nice necklace (not very well seen in the pictures) to give the look a more polished vibe, since it is a bit casual.
It was windy when Hubby took the photos, as you can see in my last picture, so my hair was a mess.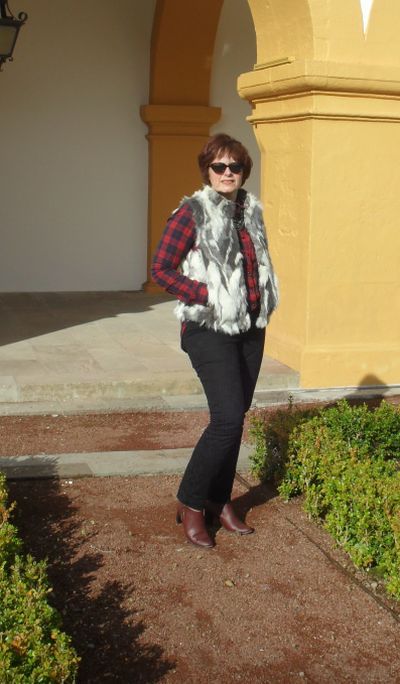 Today is the anniversary of my Father's loss.
He was always there for me through both the good times and the bad
He was always there to laugh with, or to help me when I was sad
I remember his arms around me, loved the way they always felt warm
With him by my side I completely felt no harm
I remember all the things he did to make my life worthwhile
I guess I'm missing him more than I usually do with this heart of mine
Thanks for being the best dad a girl could ever find
I still miss your smile, Dad…..
May the light be with you!!!
burgundy
booties - La Redoute
black
jacquard pants - Toronto store
faux fur vest -
Tally Weijl
plaid button down shirt - Jenifer
necklace - gift from Sister
cat eyes sunnies - Mango
****************************
Now, let's have some fun and be inspired by other stylish bloggers; Here's how it works:
1
.

Please follow (if you aren't already a follower) Searching the Inner Me in some way (Bloglovin,

Facebook or GFC);
3
. Please link up your post using our weekly InLinkz button at the bottom.
Linky remains open until Thursday;
4
. Be inspired visit others.