I've been thinking about our Link Up Party and realized that everyone who make the effort to link needed, besides the exposure gained for whatever you've been working on, to be featured in some way.
So, starting from now, I'll be pinning and sharing links throughout the week to my Très Chic Style Bits board on Pinterest!
I'm also thinking about doing something in Google +, but I'm not sure if it's going to work, so we'll see…. :)
Oh…. and it will be live until every Saturday.
********************
As some of you know, last September I made a trip to Paris and I started a serial posts about it, but never ended it.
So on third day it was again time for celebration. It was Brother-in-law's Birthday and we celebrated it. Another unforgettable day…..
We started going to see Musée d'Orsay, housed in the former Gare d'Orsay, a Beaux-Arts railway station built between 1898 and 1900. The museum holds mainly French art dating from 1848 to 1915, including paintings, sculptures, furniture, and photography. It keeps some of my favourite impressionist and post-impressionist masterpieces, like Monet, Degas, Renoir, Cézanne, Gauguin and Van Gogh.
After, we went to the famous Musée du Louvre where there is the not least famous painting Mona Lisa. And we recall the "The Da Vinci Code".
At Montparnasse Tower we saw the most beautiful views of Paris!
Just to name a few places we visited on third day.
But what did I wear that day? Well I took some pieces from first day, others from second day, added another top…… et voilà!
Black moccasins
Grey jacquard pants
Burgundy belt
white with blue strips shirt
Fushia blazer
Colour block bag (black, ochre, cream and yellow)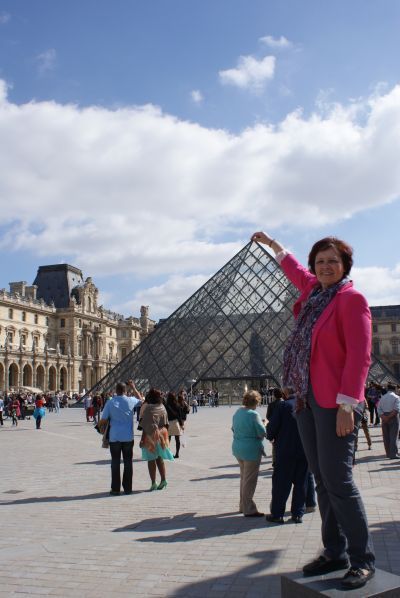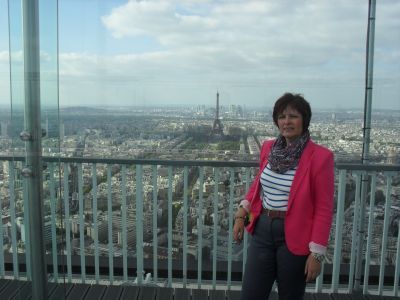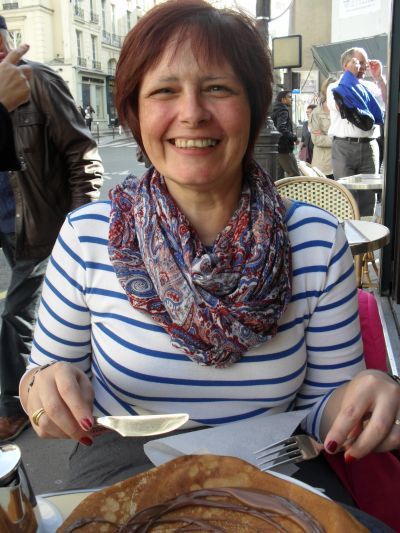 eating a Nutela crepe…… yummy :)
*************************
Now, let's have some fun and be inspired by other stylish bloggers; Here's how it works:
1
.

Please follow (if you aren't already a follower) Searching the Inner Me in some way (Bloglovin,

Facebook, Google + or GFC);
3
. Please link up your post using our weekly InLinkz button at the bottom.
Linky remains open until Saturdays;
4
. Be inspired visit others.
I'll be pinning and sharing links throughout the week to my Très Chic Style Bits board on Pinterest! (with the hashtag
#TresChicStyleBits
)
You can find the board HERE
{this linkup is very NEW I would love for you to help me spread the word! }