Hello my dear readers and blogging friends!
Hope you entered 2014 in the best possible way and may it be full of blessings for all.
As you know, link ups are a great way to meet new friends, and gain exposure for whatever you've been working on.
In our Linky your post doesn't have to be just Fashion related, but it can also be Lifestyle connected, how to do something with style (a decoration, a way to exhibit a recipe, how to present a table for guests, etc….), anything and everything that makes your life stylish.
At the bottom of this post is the button you must click to had your link.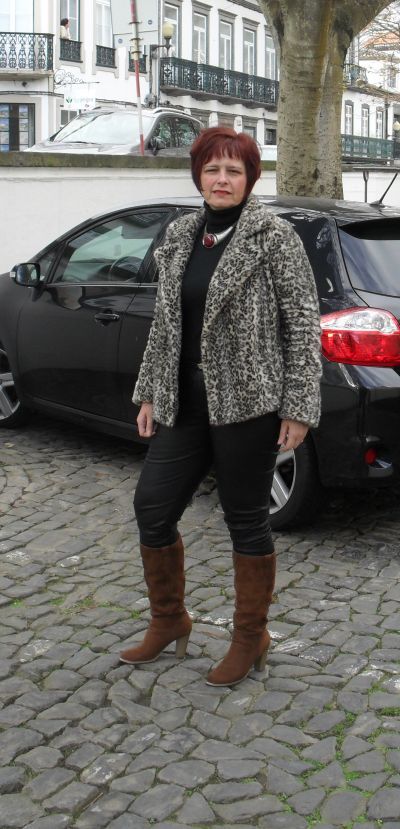 This is what I wore yesterday.
The New Year brought some bad weather, cold and wind. So I dug in my closet for a jacket that could make me feel warm.
I found this leopard jacket that in fact I didn't wear from more than a year. Don't ask me why, I don't have a logic reason for that.
But wearing it yesterday allows me to join
with Anne at Spy Girl for 52 Pickup which theme this week is "You haven't worn for a year".
Hubby was not very fond of this outfit. "You look too dark" he said.
And he is right, I use to play more with colours. In fact when I started this blog I could manage four colours in an outfit. But we all change… and some events which I passed made me change.
But with this look, if I didn't play with colours, I played with textures, I added suede, pleather and faux fur. And I also break a rule that I grow up hearing "Don't mix black with brown", remember that?
brown
suede boots - La Redoute
black pleather pants - La Redoute
black turtleneck - Zara
animal print jacket - Zara
necklace - Parfois
Now, let's have some fun and be inspired by other stylish bloggers; Here's how it works:
1
.

Please follow (if you aren't already a follower) Searching the Inner Me in some way (Bloglovin,

Facebook or GFC);
3
. Please link up your post using our weekly InLinkz button at the bottom.
Linky remains open until Thursday;
4
. Be inspired visit others.