Although these pictures give the impression that the weather here, at the Island, is good this was one of the few days that the sun shined last week.
I got sick one of the days and I didn't go to work….. a danger combination… me alone with my thoughts.
When I started blogging, it was the year of 2007, yes almost 7 years ago, 40+ fashion/style bloggers were just a few (at least that I knew of), compared with the number we can see now.
That time we had a tough phase, there were quite a few haters, people that didn't understand what we were doing, and we had some lousy comments and pressure to quit.
Some of us abandoned the blogosphere, some manage to stay and some are among the successful.
As for me, I always have been just a simple and normal working woman (and more and more on a budget), which means I take my shots with the outfits that I go to work or to do something on weekends. That time I had no doubts, I always published my photos, because I wanted to learn, I wanted to see me as if I was someone else, in a different perspective from the one in the mirror, trying to accept myself, to see my mistakes but also to see my good ideas.
Time went by…. Now 40+ fashion/style bloggers are much more. There are many great blogs with amazing looks, even stunning street style fashion…
I've gained some weight and my figure isn't "Moss-Perfect". Actually I totally admit you aren't going to see any revolutionary outfits on here.
And seeing those amazing 40+ women the perfectionist in me started to appear.
And instead of feeling confident with what I know now I find myself more and more insecure if a look is worth to publish.
Because I would very much like if I could inspire some readers to add a scarf, a fun pair of shoes or belted something, even just so they realize it is okay to have a basic pair of black pants to toss on from time-to-time.
But for that I must try to overlook that perfectionist in me that says "no, this is not good enough"…
And before I press the publish button I have been asking myself…
"Do I still matter….Is this worth to publish????"
And I never know the answer!!!!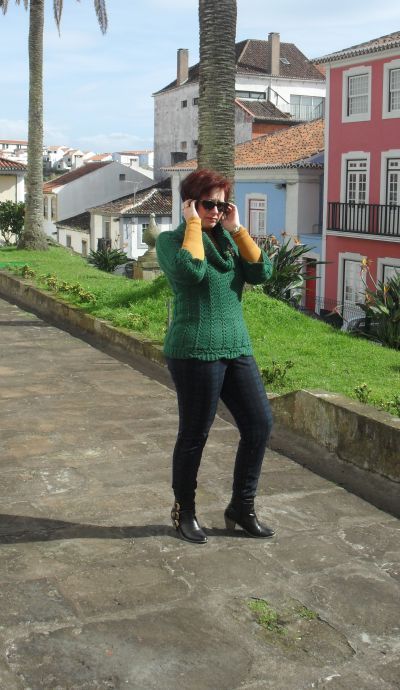 Now, let's have some fun and be inspired by other stylish bloggers; Here's how it works:
1
.

Please follow (if you aren't already a follower) Searching the Inner Me in some way (Bloglovin,

Facebook, Google + or GFC);
3
. Please link up your post using our weekly InLinkz button at the bottom.
Linky remains open until Saturdays;
4
. Be inspired visit others.
I'll be pinning and sharing links throughout the week to my Très Chic Style Bits board on Pinterest! (with the hashtag
#treschicstylebits
)
You can find the board HERE