As I'm writing this, the weather outside is foggy, cold, gray and humid.
It's supposed to be Spring. But here at the Island of Haze, Spring hasn't sprung. Yet….
All week I've been living in pants and boots and heavy coats, but I made an attempt to get into the Spring spirit, wearing one of the SS/2014 trends, pastels, with my pink pastel cardigan.
But if Spring hasn't come, our Link Up Party is here again. So have fun with us and link your post at the bottom of this.
I thought of starting this post with this phrase "I haven't been a good blogger". Then I questioned "But what's a good blogger?"
At its essence, blogging is about the personal, the anecdotal, the individual. Of course it means different things to different people and is interpreted in a variety of ways.
So each blogger has each one interpretation of a good blogger, I guess.
Back in 2007 being a blogger meant publishing our posts, checking our favourites blogs, leaving comments in the ones we had more empathy and we had it almost done.
Now we have social media!
It's the Facebook personal's account, the Facebook blog's account, Google +, Pinterest, Twitter (I haven't), Instagram (I'm not) and after checking all these, making some engagement there, where is the time to write the article, to take the pictures, to comment on a blog?
We can all agree that our individuality is stressed and celebrated through our words and images.
But we are so committed in social media that the real thing why we are here stays aside.
Well, this is just my 2 cents…. I'm sure there are lots of bloggers who don't agree with me.
You know what? Well I've been so obsessed with Paris….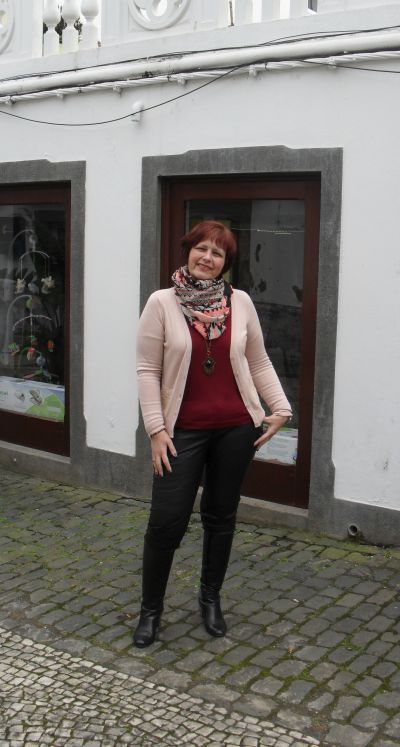 The cardigan pocket detail with
sequins
black boots - local store
black faux leather pants - La Redoute
burgundy sweater - Mango
pink pastel cardigan - H&M

****************************************
Now, let's have some fun and be inspired by other stylish bloggers; Here's how it works:
1
.

Please follow (if you aren't already a follower) Searching the Inner Me in some way (Bloglovin,

Facebook, Google + or GFC);
3
. Please link up your post using our weekly InLinkz button at the bottom.
Linky remains open until Saturdays;
4
. Be inspired visit others.
I'll be pinning and sharing links throughout the week to my Très Chic Style Bits board on Pinterest! (with the hashtag
#treschicstylebits
)
You can find the board HERE